The story of Miyasakaya
Beginning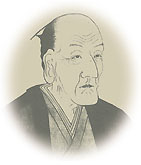 Originally, the surname Miyasaka was often found on the border between Nagano and Niigata prefectures, but it seems that it was divided into those who remained in Suwa during the time of Kenshin Uesugi and those who served the Uesugi family. The ancestors of the Miyasaka family were low-ranking samurai who arrived in Yonezawa with their lord after the Uesugi family was transferred to Aizu from Echigo.
The first "Chozaburo" is the third son of a low-ranking samurai, so in order to leave the house and make a living, he became a caretaker of the markets who secured the places of sales for merchants at shrines and temples during the festivals and arranged lodging for travelers. He was also a leader of the caretakers' union called "Shinnokai".
Meanwhile, at the same time, her wife, Isa, renovated the front door and started a "Nishimeya", now called a side dish shop, that focused on carp dishes, According to the past book, it was founded in 1849. Mainly made and sold river fish side dishes, then developed into a caterer, and in the late Edo period, it opened a full-scale store and started retailing. This is the origin of Koi no Miyasaka, the current "Miyasakayano".
Testimony of trust & supported by everyone
After the turmoil at the end of the Tokugawa shogunate, during the Meiji era, there was also a restaurant business serving carp dishes. Since then, it has survived four wars and is now. Before the war, there were more than 15 carp restaurants in Yonezawa, but now there are only 3 restaurants. As you can see, we are the longest-established carp shop in the existing shops. Since before the war, the poet Yaso Saijo and the writer Haruo Sato have also patronized us. In particular, as the late Navy Lieutenant General Nobujiro Imamura, who was from Yonezawa City, introduced our shop to the royal families, we delivered carp dishes to the Chichibumiya and Takamatsumiya families every year, and His Imperial Highness also enjoyed them.
In addition, until 2010, before the Great East Japan Earthquake, our carp dishes are served every year at the birthday celebration luncheon of His Majesty the Emperor, one of the three major ceremonies of the Imperial Court, inviting about 600 VIPs from Japan and abroad. We have been able to continue our business for more than 170 years thanks to the large number of customers who have supported us, including local customers.
The Secret of Deliciousness-Focus on Handmade-
Sticking to handmade
For example, our curry starts with making bouillon. Clean beef bones, tendon, chicken bones, etc., bake in the oven, and put in a large pot. Add flavored vegetables (celery, carrots, onions, bay leaf) and simmer for 5 hours while carefully removing the lye. This soup is one of the deliciousness.
Next, our chef prepares the spices that are the life of curry, roasts them, grinds them into powder, and begins making roux. We will also make deglazing and demiglace sauce from this bouillon over a two-day period and use it for these curries. This attitude of making things is one of the secrets of deliciousness.
No chemical seasonings or additives
As you can see from the back label of ordinary retort curry, it contains additives such as starch, polysaccharide thickener, soup extract, umami seasoning, caramel color, and protein hydrolysates. Originally, if you stick to handmade carefully, you do not need any of these additives. We are particular about handmade foods, very stoic seen from the edge, but this is the basis for making safe, secure and delicious foods.
Cooking techniques that have been passed down from generation to generation.
Miyasakaya was called "Koi no Miyasaka,"(Miyasa of carps) and the mainstream production was processed carp products, simmered dried codfish, simmered ray fins, and locusts and small fish cooked in soy sauce. In addition, at "Miyaka Honpo", we have been pursuing the technique of boiling and cooking Yonezawa beef side dishes and side dishes using local Yonezawa ingredients.
Then, in order to find out what we are most good at, we have manufactured and developed a number of original products, and we have been reborn as the Miyasakaya brand. We will continue to receive guidance from our customers and continue to refine our skills in order to create products that please everyone.
All products are manufactured at our own factory taking time without any hassles, and we are thoroughly committed to handmade products. We believe that safe and delicious products are born from careful work without cutting corners.
Birth of a New Brand "Miyasakaya" by 2020 Rebranding ~
"Koi no Miyasaka" and "Miyaka Honpo" are integrated into one new brand "Miyasakaya" while operating Task Foods. Our company is a long-established carp shop and has been called "Miyasaka Koiya"(Miyasaka carp shop) for a long time. Currently, we also manufacture and sell processed beef products such as Yonezawa beef and Yamagata beef. Since we offer products other than carp dishes, we removed the carp from the name and named it "Miyasakaya". By making the best use of the old shop name, we named it with the two wheels of inheriting the long-established tradition that lasted 172 years and new challenges and creativity, with the friendliness that is easy for customers to call, and the log mark design has been renewed.
The pattern used for the product packaging is a design of the weaving pattern of Yonezawa weaving (silk fabric), which is a traditional industry of local Yonezawa. The warp threads represent the needs and wants of our customers, and the weft threads represent the traditions and history that we have inherited, our commitment and ingenuity, and the challenges of new manufacturing.
And from now on …
The concept of the new brand is to continue to be a "slow foods and inheritance of traditional dishes & new delicatessen creation company" while making the best use of our core competence.
We will continue to listen to the voices of our customers and aim to create products that not only make people happy when they are delicious, but also surprise and impress them.

Concept Movie
Company Profile
Operating Company
Task Foods Co., Ltd.

Brand name / store name "Miyasakaya"

Business Content
Food manufacturing / Yonezawa carp dishes, processed meat products, side dish manufacturing / sales
Restaurant business / Food court operation at Michi-no-Eki Yonezawa (Providing Yonezawa ramen and 100% soba noodles)
Phone number
0238-22-7188
FAX number
0238-21-2309
E-mail
inquiry form
Location
7-130 Aioicho, Yonezawa City, Yamagata Prefecture 992-0032
Store Management Director
Hiroshi Miyasaka
Access
English Menu